Alumni Network Message from Alumni Association
June 03, 2022
Greetings to all Nanzan University and Center for Japanese Studies alumni. My name is Masahiko Mutsukawa. I am the Associate Director for the Japanese Education Division in the Foreign Language Education Center. I have been teaching Japanese language in the Center for Japanese Studies since 2006.
On 20 May, the Completion Ceremony was held online for students in the Center for Japanese Studies (CJS) in the 2021-2022 academic year. Online delivery of classes started in the CJS part way through the Spring Semester of the 2020 academic year, so they have been running for more than two years now. This year, the Summer Program was also cancelled because of the difficulties faced in terms of foreigners entering Japan for short-stays.
This challenging situation has continued for quite some time now, but recently there has finally been brighter news about increasing the upper limit for the number of foreigners entering the country and the relaxing of restrictions on the entry of foreign tourists. In this context, in the CJS we are pressing ahead with preparation for the recommencement of in-person classes from the Fall Semester.
In addition, since last year, there have been two new initiatives related to international student education. First, in the CJS, a new program called the Modern Japan Program (MJP) has started. The Intensive Japanese Program (IJP) , which has existed from the past, has been aimed at students who wanted to study the Japanese language intensively but the MJP is a program for students who would like to study basic Japanese as well as take part in a high quality course with Japanese students that provides information in English about Japanese affairs. The CJS aims to develop itself further based on the IJP and MJP programs.
Next, a new dormitory called the Janssen International Residence has opened this April. Nearly 180 local and international students with a diverse range of values live together and learn from each other. It offers an educational program called the 'Skill Development Program for Diversity and Inclusion'.
Excited about the new program and the new dormitory, in the CJS we are pressing ahead with preparations to accept new students in person in the Fall Semester. Similarly, we very much look forward to the day on which we can see you all again. In the near future, when you are able to enter Japan freely again, please consider dropping in to Nanzan University to see us. I look forward to that day.
Masahiko Mutsukawa
Associate Director for Japanese Education Division, Foreign Language Education Center
Dean of Academic Affairs for Japanese Language, Center for Japanese Studies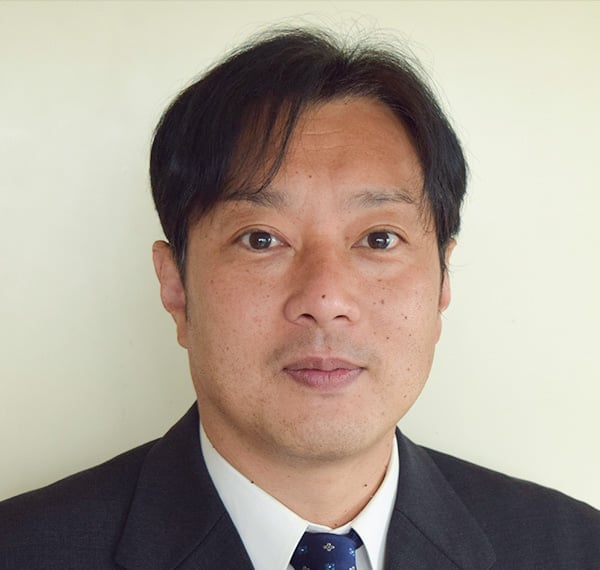 南山大学卒業生、外国人留学生別科修了生の皆様、こんにちは。外国語教育センター副センター長(日本語教育部門)、外国人留学生別科日本語担当の六川雅彦です。2006年から外国人留学生別科を担当しています。
5月20日に2021-2022年南山大学外国人留学生別科修了式がオンラインで開催されました。外国人留学生別科でのオンライン授業は2020年春学期の途中から始まりましたので、2年以上続いていることになります。また、今年は短期滞在の外国人の入国が難しいためサマープログラムも中止になりました。
このように厳しい状況が長く続いてきましたが、最近やっと日本国内でも入国者数上限の引き上げや観光客の受け入れといった入国制限緩和に関する明るいニュースが増えてきました。外国人留学生別科でも秋学期の対面授業再開に向けて準備を進めています。
その他、昨年以降南山大学では外国人留学生の教育に関する2つの新たな動きがありました。まず、外国人留学生別科でModern Japan Program(MJP)という新しいプログラムがスタートしました。これまでのIntensive Japanese Program(IJP)は日本語を集中的に学習したい学生を対象としたプログラムでしたが、MJPは基本的な日本語を学びながら英語で提供される質の高い日本事情のコースを日本人学生とともに履修したい学生を対象としたプログラムです。これからの外国人留学生別科は、IJPとMJPの2つのプログラムで更なる発展を目指します。
次に、今年の4月には新しい寮「ヤンセン国際寮 」が開寮しました。ヤンセン国際寮は、180名近い日本人学生と外国人留学生が共に暮らし学びあう国際学生宿舎で、「ダイバーシティ&インクルージョン実践力養成プログラム」と呼ばれる教育プログラムを実施しています。
新しいプログラム、新しい寮と共に、新しい学生の皆さんと対面で会えるのを楽しみに、外国人留学生別科は秋学期に向けて準備を進めています。また、それと同じぐらい、皆さんと再会できる日を楽しみにしています。近い将来、自由に日本に入国できる日が戻ってきたときには、また南山大学に帰ってきてください。その日が来るのを楽しみにしています。
外国語教育センター副センター長(日本語教育部門担当)
外国人留学生別科日本語科目教育担当
六川 雅彦
Contacting Alumni Association
Nanzan International Students Alumni Network
Center for International Affairs
Nanzan University
18 Yamazato-cho Showa-ku
Nagoya 466-8673
e-mail: intl-alumni@nanzan-u.ac.jp
(Please contact us for e-mail news letter registration.)
Facebook : Nanzan University International Students Alumni Network