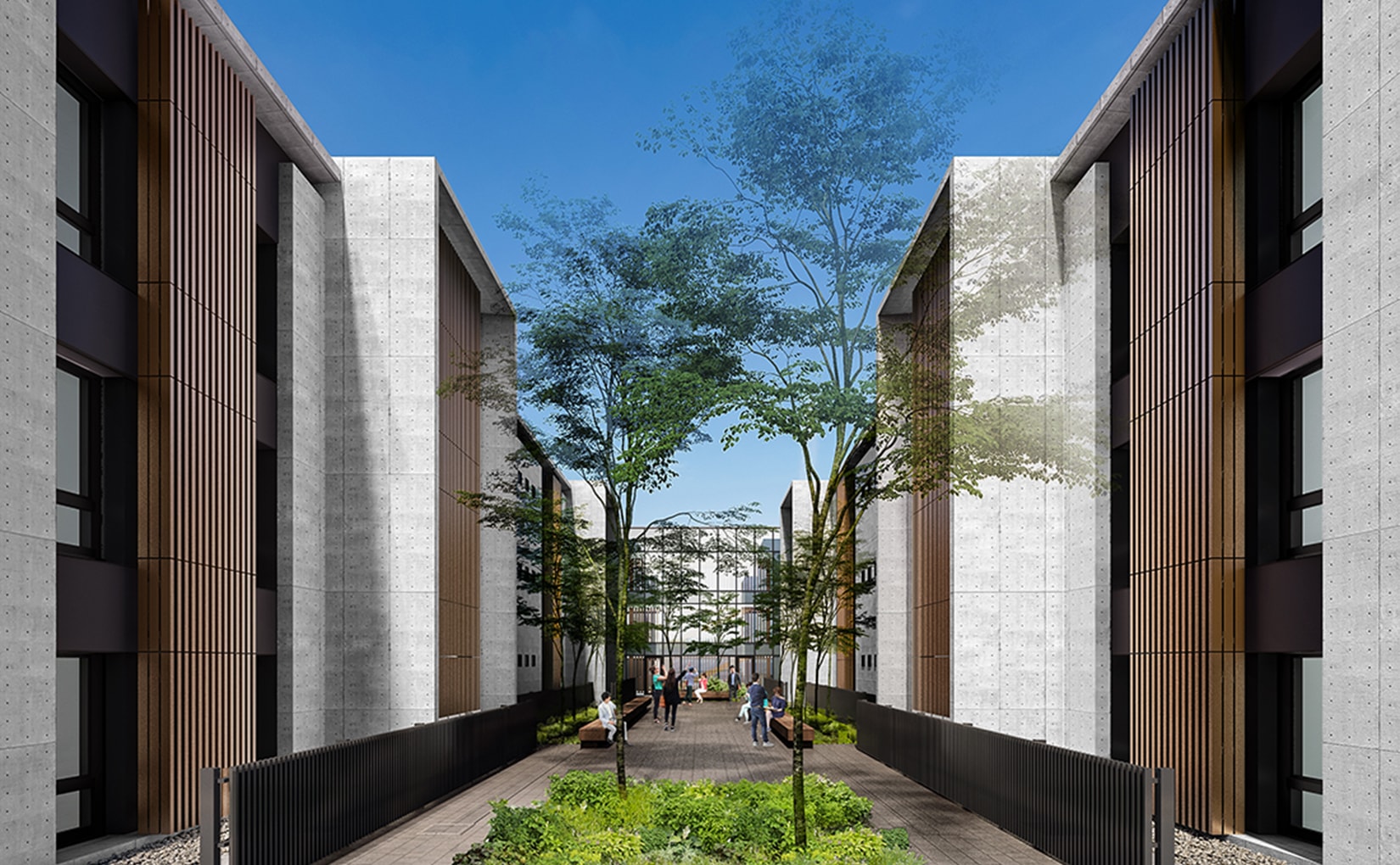 Experiencing diversity
Developing skills
Utilizing them in our diverse society
Janssen International Residence
2022.04 DEBUT
*While the information provided on this website is correct as of October 2021, the actual implementation may differ slightly.
concept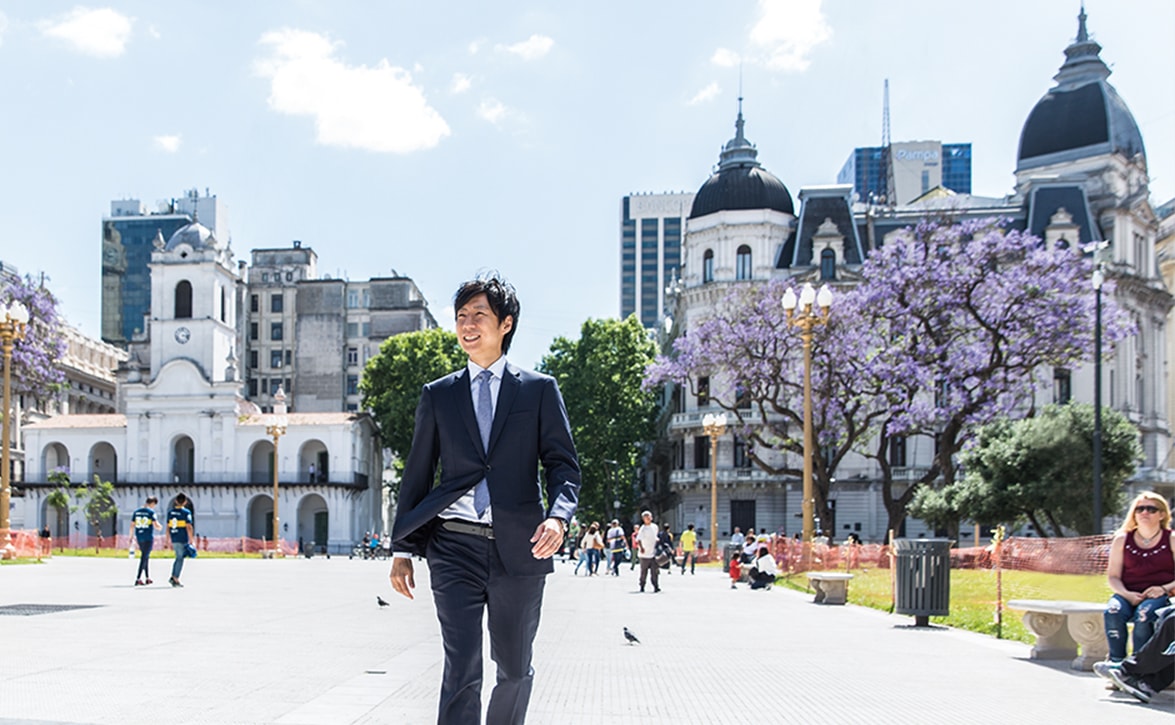 Empower Yourself to Empower the World
The Janssen International Residence is a dormitory where students from Japan and many other countries with a diverse range of values live together and learn from each other. It offers an educational program called the 'Skill Development Program for Diversity and Inclusion'.
The increasingly borderless nature of our world, coupled with ongoing technological innovation, will undoubtedly make society more vibrant. People will be expected to work with colleagues from different backgrounds and to strive to develop new values with them. Companies and organizations will increasingly embrace diversity and practice inclusion in order to enhance performance.
Therefore, this Residence is designed not only to help students become independent, but also to develop their understanding of diversity and inclusion (D&I) and to foster the skills to enable them to work effectively in our globalized society.
program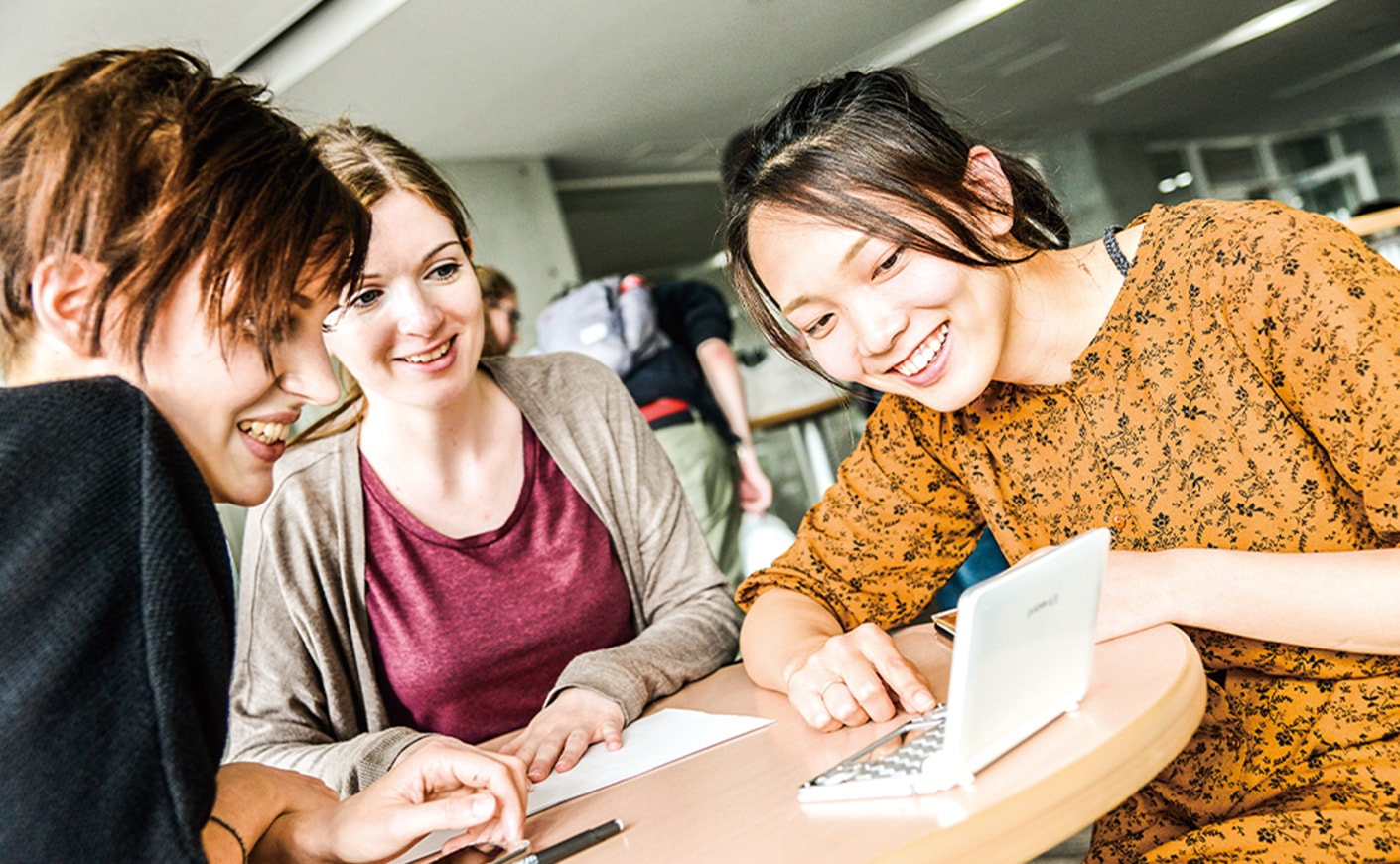 Skill Development Program for Diversity and Inclusion
Students experience a diverse range of perspectives in their everyday life at the Residence. By attending various skill-development workshops and making new friends through social events they learn how to recognize others' views and how to be inclusive. Based on individual interests, such as preparing to study abroad, the desire to experience other cultures and an interest in being involved in managing the facility, students design their own learning within the Janssen International Residence by choosing what activities to participate in.
Educational Program Content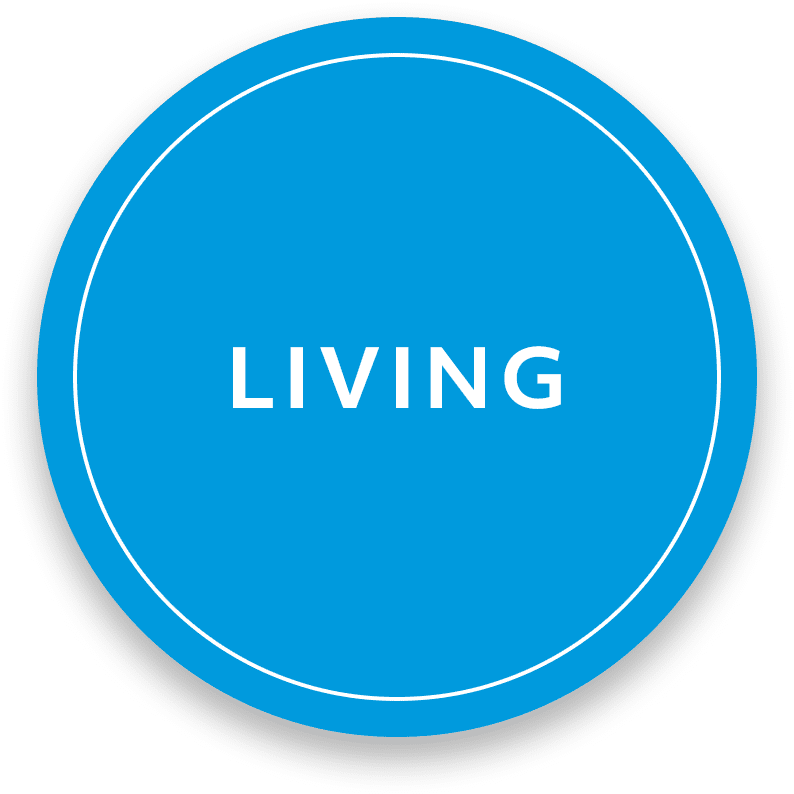 Practice multicultural communication in everyday life
Becoming involved in the managing of the Residence
Designing rules for dormitory life
Learning self-care and stress management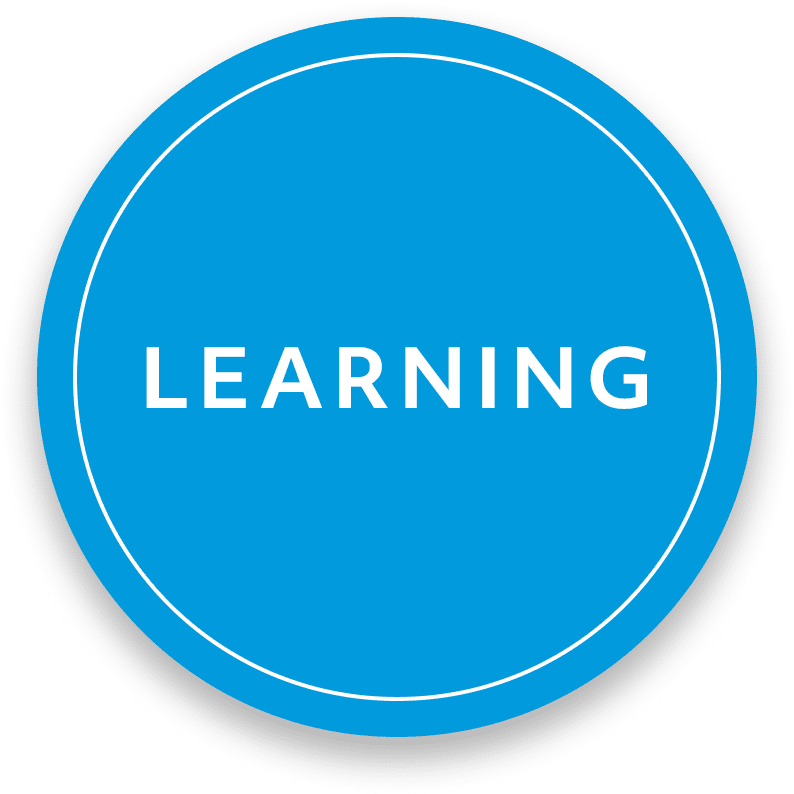 Participate in interactive skill development workshops
Topics (Examples)
Multicultural Communication
SDGs
Critical Thinking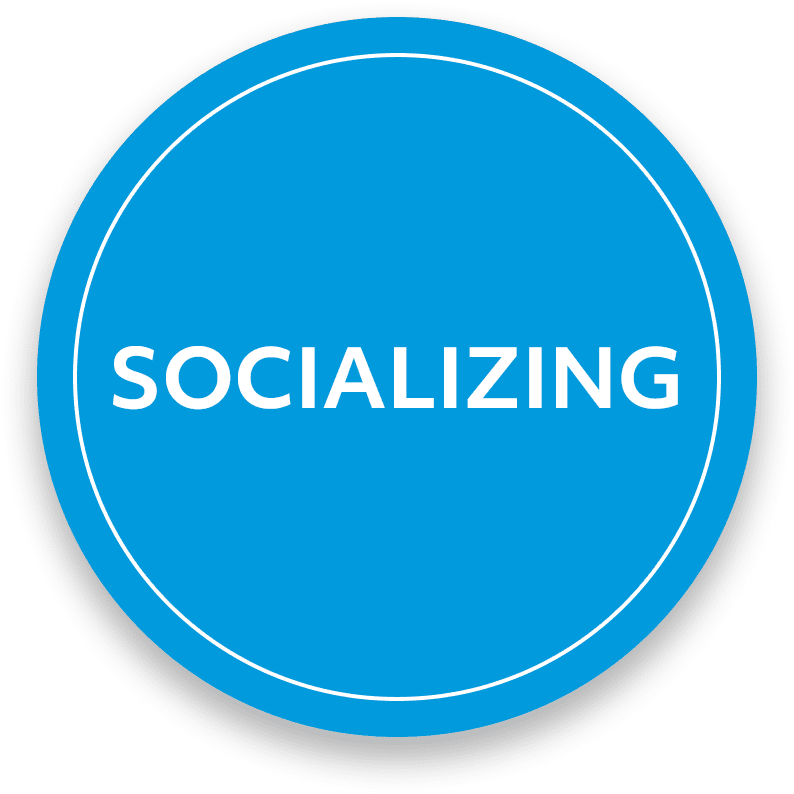 Connect with a diverse range of friends through social events
Social events run by students (Examples)
Guest speaker talk-sessions
Cultural exchange events
Welcome / Farewell events
Four skills which students develop
throughout this educational program
Multicultural Competence

Students develop practical skills for multicultural communication through everyday residence life such as understanding and respecting similarities and differences and expressing ideas and opinions by using a shared language.

Critical Thinking Skills

Students develop practical critical thinking skills to analyze an issue or a thing from different perspectives, connecting and questioning ideas to reason and integrate ideas in order to analyze and formulate a logical conclusion.

Inclusion Skills

Students develop followership and leadership skills which enable them to work effectively and successfully in groups organized by a diverse range of people.

Innovative and Creative Skills

Students develop a proactive approach to dealing with issues as well as the practical skills to solve problems collaboratively using innovative ideas.
environment
Shared Living Room

There is a shared living room on each floor which students can use freely for such things as preparing for a presentation or doing homework. The shared living rooms can serve as a venue for events or enjoying interaction with other residents.

Shared Kitchen and Dining Room

Basic kitchen utensils and appliances are provided. Students of each group share a kitchen and dining room, for cooking, dining, or enjoying conversation with friends.

Private Room

All rooms are single occupancy with basic furniture, such as a desk, chair and bed provided. Wireless Internet access is available, enabling students to focus on their studies.

Entrance

Living areas are separated for male and female students. An IC card key system is used to manage security and caretakers are on site 24 hours-a-day.

Courtyard

The courtyard is an area to relax and interact with friends.

Exterior view

Located next to campus, the Janssen International Residence is a dormitory where residents with different values can live and work together. It aims to foster people capable of shining on stages that transcend national borders.
Living environment that enriches learning
Equipped with basic furniture, such as a desk, chair and bed, as well as wireless Internet access, the dormitory offers a perfect environment for study.
A shared living room on each floor serves as a place where students can study or enjoy interacting with other residents.
Maximum of 10 Japanese and international students form a Living Group and share a kitchen and dining room.
Appointed Resident Leader(RL) and Living Coordinator(LC) are responsible for proposing and operating Residence rules to create the dormitory culture, as well as planning and running social events and skill-development workshops along with teachers.
Students have opportunities to live, learn, and make friends, not only with Japanese students, but also with students from all over the world.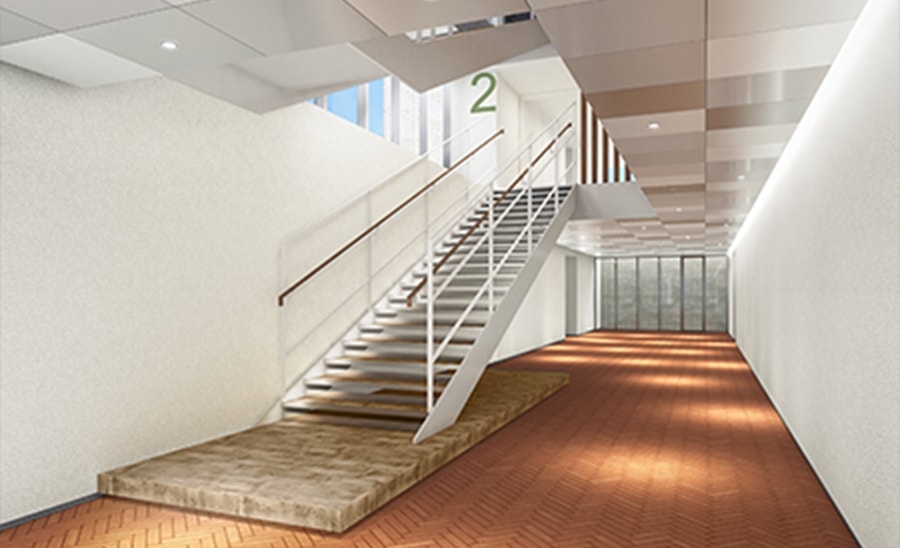 Residents have a range of objectives
prepare
Those who want to
prepare to
study abroad
lead
Those who want to
develop world-class
leadership skills
plan and manage
Those who want to
be involved in
managing the Residence
and planning events
communicate
Those who want to
develop skills for working
with people from
different backgrounds
expand skills
Those who want to
utilize their study
abroad experience
explore and develop
Those who want to
find out what study
abroad is like
origin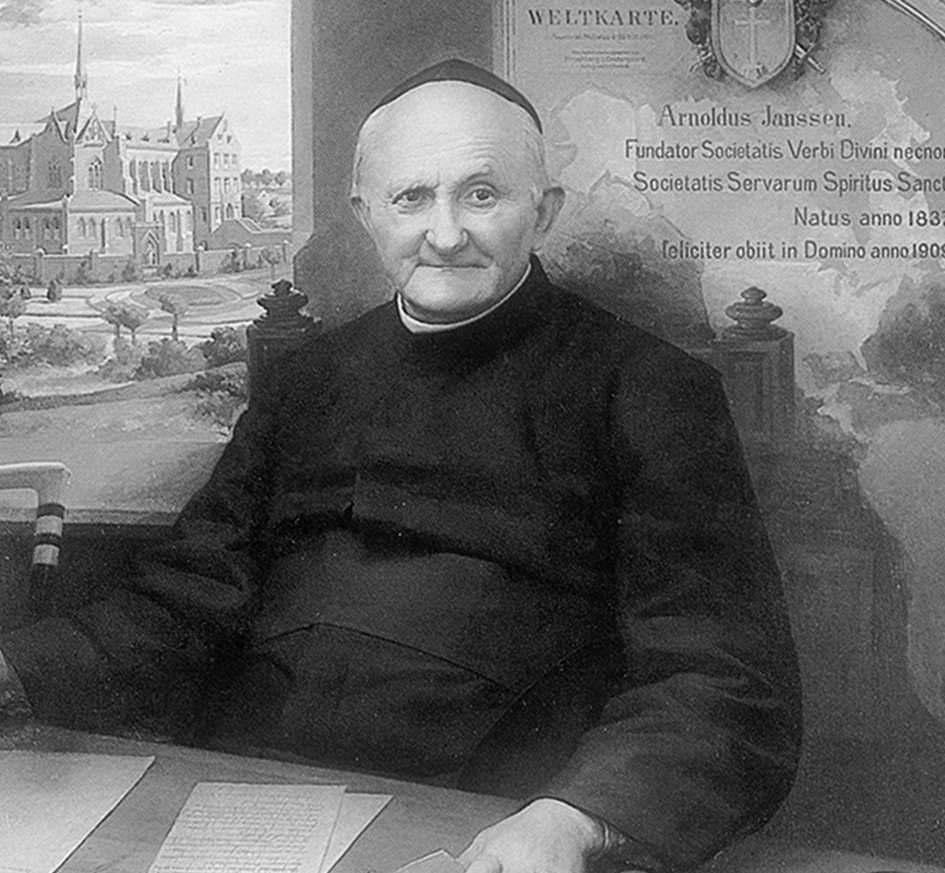 This international dormitory at Nanzan University was named after the founder of the Society of the Divine Word, St. Arnold Janssen.
"We live in a time when much is collapsing, and new things must be established in their place." This message that St. Arnold Janssen left us matches our concept of the Residence, which is "to develop the skills to identify global problems around us and find solutions to them."
summary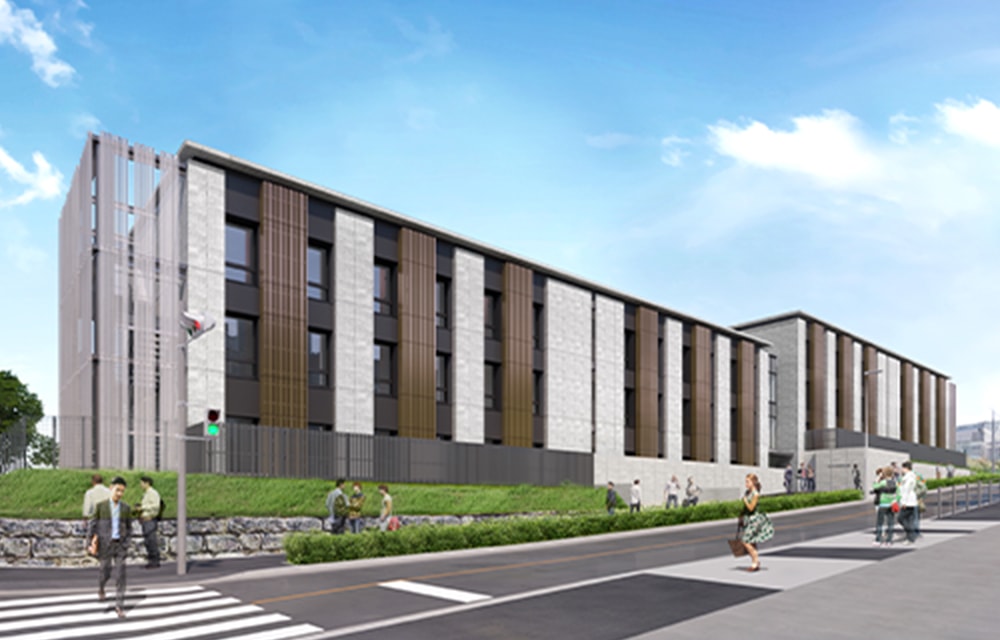 Location

Next to campus
(138-1 Yagumo-cho, Syowa-ku, Nagoya, Japan)

Facility

Four story building with 178 rooms including two universal design rooms

Monthly Rent

60,000 yen including utilities and free Internet access

*Participation Fee for the educational program is also required: 1,000 yen / month.

Note

Two adjacent Living Groups share the same showers and bathrooms.
Living areas are separated for male and female students.
An IC card key system is used to manage security and caretakers are on site 24 hours-a-day.
map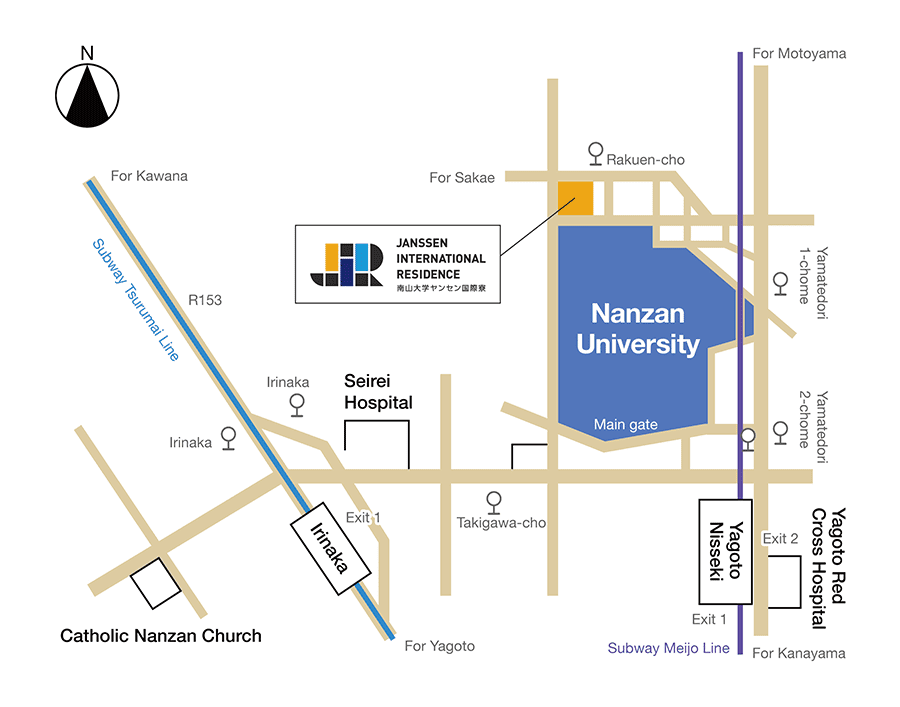 Nearest Stations
Meijo subway line "Yagoto Nisseki" station
Tsurumai subway line "Irinaka" station