Alumni Network Message from Alumni Association
June 16, 2021
Greetings to all our graduates, and I hope that this message finds you in good health. My name is Robert Kisala, and I am the president of Nanzan University.
I took over as president of the university in April 2020, just as the pandemic was gathering force here in Japan. As a result of the pandemic, most of the international students were sent back to their home countries and classes moved online. Since then more than a year has passed, and the number of international students on campus is still very limited. We are all hopeful that as the vaccinations become more available worldwide travel restrictions will be lifted and we will be able to return to the Nanzan tradition of promoting international exchange among a wide variety of cultures.
I myself am a graduate of the Japanese language program at Nanzan. I entered the Center for Japanese Studies in the summer of 1985, and spent nearly two years on campus, before going to Tokyo for graduate studies. I treasure the time I spent in the program here at Nanzan, and the experience has served me well as I have continued my journey through life.
Considering that the Center for Japanese Studies was founded in 1974, it was still in its infancy when I studied here. Already then, however, a tradition of solid, practical education in Japanese language and culture had been established, and the Center has continued to develop its program in the intervening years.
This coming year there will be two new developments regarding the education of international students at Nanzan. At the Center for Japanese Studies a new program, the Modern Japan Program will be initiated. This will be in addition to the present Intensive Japanese Program, which is aimed at students who want to study Japanese intensively. In contrast, in the Modern Japan Program students will study basic Japanese while at the same time taking high-quality courses in Japanese area studies, conducted in English, together with Japanese students. Through the establishment of this program we aim at promoting educational and cross-cultural exchange between the students of our faculties/ graduate schools and CJS students.
In addition, a new dormitory is being built adjacent to the university, with the opening date set for April 2022. The Nanzan University Janssen International Residence is named after Arnold Janssen, the founder of the Divine Word Missionaries, the Catholic international congregation that founded the Nanzan schools. It will be home to nearly 180 Japanese and international students, and will offer yet another opportunity for intense and broad-ranging intercultural exchanges.
We are excited about these new developments, and draw hope from them that even in the midst of the confusion and pain caused by the present pandemic we are able to find areas to move ahead and further Nanzan's unique contribution to international education. I pray for the day when all of humanity will be protected from this terrible disease and we will once again be able to move around freely and meet each other directly. In the meantime, let us give thanks for the new opportunities and new skills that we have learned through this experience, and continue to keep in touch and support one another. I hope that sometime you will have the opportunity to return to Nanzan and see for yourself how we continue to develop the international Nanzan tradition, to which you have all made an important contribution.
Dr. Robert Kisala, S.V.D.
President
Nanzan University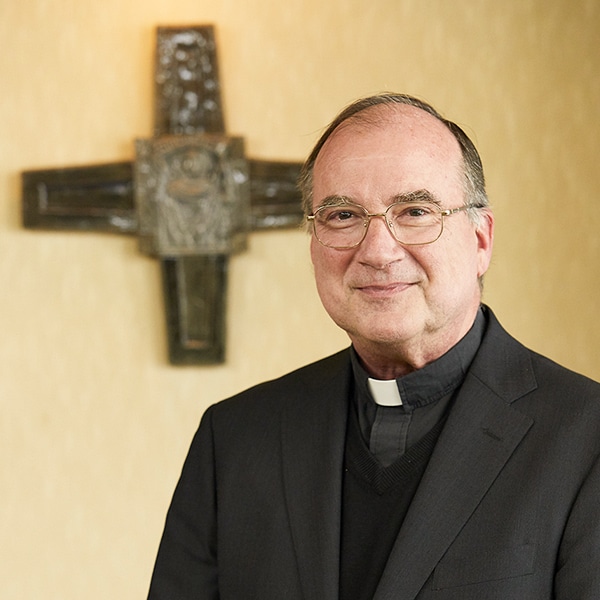 卒業生の皆様、こんにちは。南山大学学長のロバート・キサラです。お元気でお過ごしでしょうか。
私は2020年4月に学長に就任しました。日本ではちょうど新型コロナウィルスの流行が本格化し始めた時期です。パンデミックによって、留学生のほとんどが帰国することとなり、授業はオンラインに切り替わりました。それから1年以上が過ぎますが、キャンパスにいる留学生の数はまだ限られています。世界でワクチンが普及し、渡航制限が解かれ、再び南山大学の伝統でもある多種多様な文化間の国際交流が促進されることを願っています。
私自身、南山大学の外国人留学生別科(CJS)の修了生です。1985年の夏にCJSに入り、東京の大学院で勉強を始めるまでの約2年間をこのキャンパスで過ごしました。南山大学で過ごした日々はかけがえのない思い出で、その経験はその後の人生にも生かされています。
CJSは1974年に創設されました。私が在籍していた当時は、まだ創設から間もない時期ではありましたが、それでも現在まで受け継がれている充実した実践的な日本語・日本文化教育は、すでに確立されていました。そして、その後も、CJSのプログラムは更なる発展を遂げてきました。
今年、南山大学では外国人留学生の教育に関連する、2つの新たな動きがあります。
まず、CJSで、Modern Japan Programという新しいプログラムがスタートします。既存のIntensive Japanese Programが、日本語を集中的に学習したい学生を対象としたプログラムであるのに対し、新しいプログラムでは基本的な日本語を学びつつ、英語で提供される質の高い日本事情のコースを日本人学生とともに履修することになります。このプログラムの新設によって、学部・大学院生と別科生の教育的・文化的交流を促進していきたいと考えています。
また、現在、大学の隣接地に新しい寮「ヤンセン国際寮」を建設中です。寮の名前は、南山学園を設立したカトリックの修道会・神言会の創立者、聖アーノルド・ヤンセン神父にちなんでつけられ、2022年4月に開寮予定です。180名近い日本人学生と外国人留学生が居住する予定で、この寮もまた広く活発な国際交流を促すものになると考えています。
こうした新たな動きに期待感を持つと同時に、パンデミックによる混乱や苦しみの中においても、国際教育に対して南山大学独自の貢献をすすめる余地を見いだせているということに、希望も感じます。全人類がこの厄災から守られ、自由に移動し直接会うことができる日が来ることを祈っています。それまでは、この経験から得られた新たな機会や新たな知識に感謝をするとともに、交流を保ちながら、お互いを支え合いましょう。いつか再び南山大学を訪れ、皆さんの貢献により、国際的な南山大学の伝統がいかに発展し続けているかをご自身の目で確かめていただけたらと思います。
南山大学 学長
ロバート・キサラ
Contacting Alumni Association
Nanzan International Students Alumni Network
Center for International Affairs
Nanzan University
18 Yamazato-cho Showa-ku
Nagoya 466-8673
e-mail: intl-alumni@nanzan-u.ac.jp
(Please contact us for e-mail news letter registration.)
Facebook : Nanzan University International Students Alumni Network