Alumni Network Message from Alumni Association
December 21, 2020
To our graduates, I hope that you are all well. My name is Kiyoshi Fujimoto; I am the Dean of the Faculty of Policy Studies.
2020 marks the twentieth anniversary of the establishment of our faculty. As part of our commemorative events, we had planned to put the word out to encourage all of you former international students who are currently shining on the global stage to attend a large commemorative party, but unfortunately the pandemic scuttled our plans and we were unable to hold this event. I imagine that strict measures will have been implemented in each of your countries to control the spread of the virus and, as a result, that it has been a year marked by restrictions for you all.
I imagine that universities throughout the world have been delivering most of their classes online, as we have been doing at Nanzan University, so students have been taking lessons from their homes.
There were many students who were obliged to take their classes online from their own countries because they went home for the spring holidays, but were then unable to come back to Japan. Be that as it may, this situation has reminded us that as long as we can overcome the difficulties regarding time difference, IT has advanced to the stage at which we can take classes in real time regardless of where we are in the world.
The other day, we asked a Japanese graduate of our faculty who is currently working in Ho Chi Minh City in Vietnam to talk to our current students using Zoom on the topic of "Thinking about our career." The focus was on what she got involved in when she was at university and aspects of her career to date. Previously for such events we had asked graduates in Japan to come to our campus to deliver a talk, and had not thought at all about having a graduate living overseas to speak using an online platform. We now realize that we can ask our overseas-based graduates who are shining on the world stage to relate their experiences to our current students, so we may request your cooperation on this front at some stage.
In 2017, the Faculty of Policy Studies moved from its former location on the Seto Campus to be integrated into the Nagoya Campus. I can understand that there might be some feelings of sadness among our previous graduates because the old campus, with all of the memories it held, no longer exists. The Nagoya Campus is located on high ground, so from the new building that houses the Faculty of Policy Studies we can see the high-rise buildings around Nagoya Station, as well as the main urban area of Nagoya City. It is totally different to the lush green environment that was the Seto Campus, but the content of the learning that occurs in the Faculty of Policy Studies is unchanged. While it has become easy to connect online these days, there is nothing better than talking face-to-face. Please do come and visit us on the Nagoya Campus once we all get through the pandemic. I sincerely hope that the day on which people can once again come and go freely as we used to do previously is not far off.
Kiyoshi Fujimoto
Dean
Faculty of Policy Studies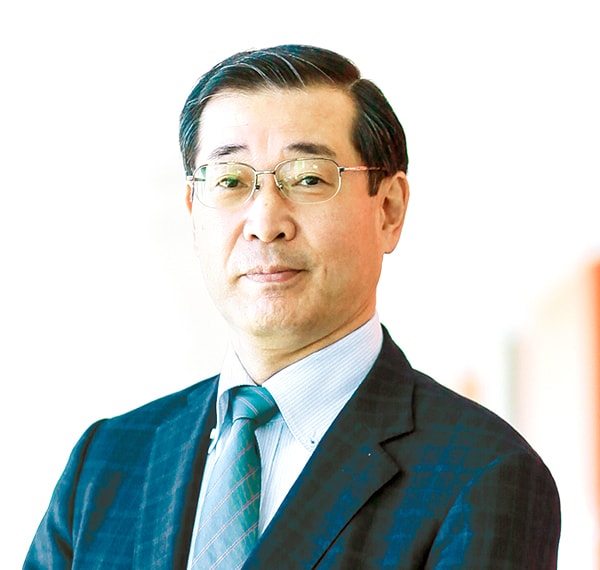 卒業生の皆さん、お元気ですか? 総合政策学部長の藤本です。
2020年は総合政策学部にとって創設20周年の節目の年となりました。そこで、今年は20周年記念事業の一環として、各国で活躍する元留学生の皆さんを日本に招待し、盛大な20周年記念パーティー開く予定でした。しかし、残念なことに新型コロナウィルスの世界的パンデミックのため、それを実施することができませんでした。おそらく皆さんの国でも厳しい感染防止策が執られ、不自由な1年となったことと思います。
おそらく世界中の大学も同様と思いますが、南山大学でも授業のほとんどがオンラインで実施され、学生の皆さんは自宅から授業を受けることとなりました。留学生の中には春休み中に一時帰国し、そのまま日本に再入国できずに母国から授業に参加せざるを得なくなった学生も大勢います。しかし、世界のどこにいても、時差の問題さえ克服すれば、リアルタイムで授業に参加できるまでにIT技術は進歩していたと言うことに改めて気づかされました。
先日は、ベトナムのホーチミン市で仕事をしている日本人卒業生に、「キャリアを考える」というテーマで学生時代に取り組んだことやこれまでのキャリアについて、Zoomを使って多くの在学生の前で語ってもらいました。これまでは国内にいる卒業生にわざわざキャンパスまで足を運んでもらって行っていたイベントで、海外にいる卒業生にオンラインで語ってもらおうなどとは思ってもいませんでした。世界中で活躍している元留学生の皆さんにも、これまでの経験を在学生に伝えていただければと考えています。その際には是非よろしくお願いします。
総合政策学部は2017年に瀬戸キャンパスから名古屋キャンパスに統合移転されました。それ以前に卒業した皆さんにとっては思い出のキャンパスがなくなり、寂しい気持ちを抱いていることと思います。名古屋キャンパスは高台にあり、総合政策学部が入っている新しい建物からは、名古屋駅周辺の高層ビル群など名古屋市街地を一望できます。緑に囲まれた自然豊かな環境にあった瀬戸キャンパスとは全く異なりますが、総合政策学部での学びの中身は変っていません。
現代社会はオンラインで容易に繋がることができるようになりましたが、直接会って語り合うことに勝るものはありません。コロナ禍が終息した暁には、是非名古屋キャンパスに遊びに来てください。以前のように、自由に行き来できる日が一日も早く戻ってくることを願うばかりです。
総合政策学部長
藤本 潔
Contacting Alumni Association
Nanzan International Students Alumni Network
Center for International Affairs
Nanzan University
18 Yamazato-cho Showa-ku
Nagoya 466-8673
e-mail: intl-alumni@nanzan-u.ac.jp
(Please contact us for e-mail news letter registration.)
Facebook : Nanzan University International Students Alumni Network